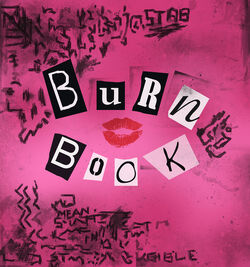 Welcome to the Burn Book. Here are a clever list of sayings you can use to burn people hard. Results are not guaranteed. Insults can result in a flame war and/or hatred from the person you use these against if they have zero chill and are saltier than RBW. Use at own risk. They're still funny though.
Blogs
When someone makes blogs with spelling errors, comment on the spelling errors instead of the actual content.
Trolls
When someone is being painfully annoying or bothersome: "Gogo away".
To all the pathetic trolls out there: "No.", "Nope.", "You are no longer welcome on this wiki. Goodbye.", or "Bye Felicia".
Ban them for "just existing honestly".
When someone is trying to insult you: "Do not come for the queen unless the queen sends for you."
Ones You Shouldn't Actually Use And Are Only Here For Mockery Purposes
When people tell you that blogs need to be at least five sentences: "You need to be at least five sentences."
"ok. keep toesucking [insert character] and refusing to believe that [insert gender]'s a gag for the majority of [insert season]."
See also
Ad blocker interference detected!
Wikia is a free-to-use site that makes money from advertising. We have a modified experience for viewers using ad blockers

Wikia is not accessible if you've made further modifications. Remove the custom ad blocker rule(s) and the page will load as expected.