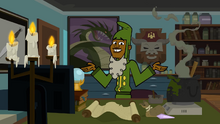 King Leonard is a contestant on Total Drama. He is the husband of Queen Sugar who was involved in a love triangle with Tammy from RR off-screen. King Leonard chose Queen Sugar and now they both live together and spend their free time making out. They are Sarah's crack OTP.
Some bae links:
See also
Ad blocker interference detected!
Wikia is a free-to-use site that makes money from advertising. We have a modified experience for viewers using ad blockers

Wikia is not accessible if you've made further modifications. Remove the custom ad blocker rule(s) and the page will load as expected.